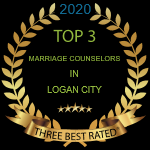 Thank you for voting for me and for all the support in 2020! I am so excited and proud to be working with so many awesome people; Women, couples, and families.
We have achieved a lot in this year despite a difficult year for many. My practice increased by 300%, yes, you heard me right! THREE HUNDRED PERCENT.
This has meant more availability, more training, more groups (check out the Healthy Mindsets for Super Kids program running at the moment), and more services offered in the Beenleigh, Logan, and Gold Coast area.
This year, I have had people drive from Brisbane, Sunshine Coast and Gold Coast to come and see me. My patients have been from ages 11 to 84. We have received 23 FIVE star reviews and so much ongoing support from everyone including the awesome Beenleigh Neighbourhood Centre.
I just feel humbled and recognise the worth and strength of every patient that I have seen. It is such a privilege to be hearing people's stories and play a tiny part of their growth. Truly, I love my job!!
So again, thank you. For taking the big step to meet with me, for being open to your abilities, and for the amazing google reviews and support.
Visit the link to learn more about our Marriage Counselling and Womens Counselling services.